Have a Heart and the Force Will be with You, Always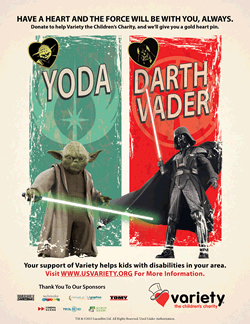 Lucasfilm Ltd.
has collaborated with Variety the Children's Charity to create limited edition pins featuring
Yoda and Darth Vader
for Variety's 24th annual Gold Heart Pin Campaign.
Proceeds will benefit Variety programs that provide life-changing mobility devices, life-saving hospital equipment, and life-enriching experiences to children who are disabled and disadvantaged.
The collector's items will be available for a minimum donation of $3.00 at the locations below between November 2013 and April 2014.
Support Variety and show everyone YOU CARE!
Get your yoda and darth vader Gold Heart at the following locations:
Get Yours Online Now!
Variety Gold Heart Pins
!