Since 1991 people around the world have proudly worn the Gold Heart as a symbol of their support for Variety the Children's Charity and for the children who benefit from the services we provide.
Now you can order our new 2014 and other Classic Movie Character Gold Pins online with PayPal. Just use our quick order form below.
Please note: (1) to order more than one type of Pin, just click the "Continue Shopping" button on the PayPal page, (2) to order more than one of each Pin, just change the number in the "Quanity" column on the PayPal page. If you live outside of the U.S. and would like to order Variety Gold Heart Pins, please e-mail info@varietyinternational.org. Thank you!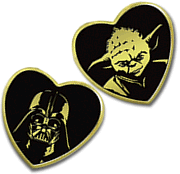 Our new 2014
YODA and DARTH VADER Variety Gold Hearts
are now available online and in movie theatres nationwide, thanks to the dedicated efforts of our Sponsors and U.S. Variety Tents.
© & ™ 2013 Lucasfilm Ltd. All Rights Reserved.
Star Wars Collection